Join Our Team
A funeral home plays a unique role in a community. Most people never want to need our services, but families share with us that when a loved one dies, being able to call on a professional team of caregivers to guide them through the process is invaluable.
We are a family-owned business, and we treat each family as if they were our own. Our Core Values of Excellence, Trust, Care and Growth are shared by all associates, and translate into beautiful, personal cremation and funeral services for our community.
To learn more about a career with us, stop by our LinkedIn or Facebook pages.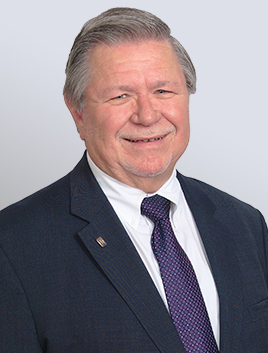 Funeral Director in Charge
Bill Welborn
Bill started his career in the funeral industry in 1972 and graduated Salutatorian from Gupton-Jones College of Mortuary Science. Over the years Bill worked for a number of funeral homes and cemeteries. In the early 2000's he returned to his alma mater as an instructor until entering in a partnership with his older son, building an IT business. Once up and running he turned that business over to his son and returned to funeral service.
Bill is a member of the Masonic Lodge and has served as Master and then as Secretary for many years. He has been a member of Rotary and is a past president and Paul Harris Fellow. He has been a member of the Optimist Club and a past president of that organization. During his time managing various funeral businesses he also served on several city committees as a City Council appointee.
He and his wife, Yvonne, have been married for 45 years and have 2 grown sons and 3 grandchildren. When he is not working he enjoys spending time with family and traveling.
Find us on Facebook and Linkedin